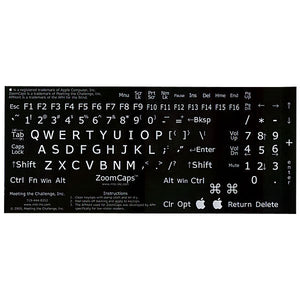 Zoomcaps - White on Black
ZoomCaps are adhesive labels for computer keyboards. The bold, large print letters, numbers, and symbols use the American Printing House "APHont" for easier viewing. The white text on black background provides high contrast and reduces glare. Each set includes 120 labels--enough for every key on your keyboard. Simply peel and stick and you'll be on your computer again in no time. Already arranged for you in the QWERTY layout, these labels will work with any arrangement of letters your keyboard uses. 

Works with both Windows and Apple keyboards.