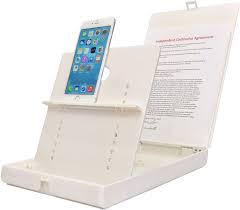 ScanJig
The ScanJig portable scanning stand holds your smart tablet or phone in the correct position for fast, precisely aligned scans of documents, checks, books and photos.
 The innovative angled design supports tablets, captures more room light, avoids casting shadows and allows access to the touch screen from the seated position. 
​Open the ScanJig, place your device, and start scanning in seconds. This rugged, durable stand folds down and snaps shut to easily fit in a backpack or suitcase.