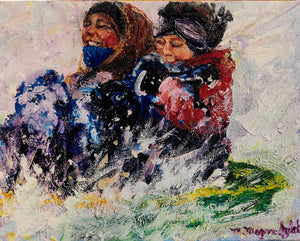 Snowy Laughter by Maureen Magner-Sylak
SNOWY LAUGHTER – Maureen Magner-Sylak
ARTIST BIO (featured on back of card):  Maureen's earliest influence to paint and draw came from her mother, who was a Cleveland Heights watercolor artist in the mid-1960s. From her, she learned to connect with her subjects through expressive color and varying brushstrokes. Painting became a way to express her presence with subjects and a way to emulate their spirit.

Over the years, she has refined her drawing and painting skills by learning from some of the finest area artists who teach classes at Fairmount Center for the Arts, The Cleveland Museum of Art, The Cleveland Institute of Art, Valley Arts and The Cleveland Botanical Gardens. Her paintings have been displayed in exhibits through the Cleveland Museum of Art and invitations from Valley Arts and Heights Arts. It is her intention to maintain a connection with the art community and to never stop learning from it.

Inside: May your holiday season be filled with warmth and laughter!
Back:  Artist Bio & "Cleveland Sight Center (CSC) is a nonprofit 501(c)(3) agency that consists of a team of professionals dedicated to providing services and support with a high level of compassion and expertise to people of all ages who have vision challenges. The team of optometrists, vision rehabilitation therapists, teachers, employment specialists and other staff work with individuals and their families to understand their unique vision-related challenges and provide solutions that empower them to reach their goals and live independently. Proceeds from this card support programs and services for individuals of all ages who are blind or who have limited vision."

10 cards with envelopes per order.