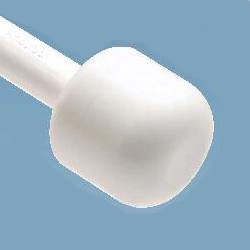 Cane Tip - Red Marshmallow
This cane tip is universal, and can be used with either an Ambutech folding cane or a Revolution Graphite folding cane.
The marshmallow tip is specifically designed for city travel, (cement, concrete, and other hard surfaces). Its beveled end allows the cane to slide over all those cracks; lumps and bumps as in carpeting, tile flooring and cracked sidewalks that the smaller tips get caught in.
This tip is injection molded of high-viscosity, low-friction nylon and has a solid body. It has an outer diameter of 1.25 inches, 1.5 inches in length and weighs about 1 ounce. The average life is about 4-5 months with regular use and periodic rotation of the tip.