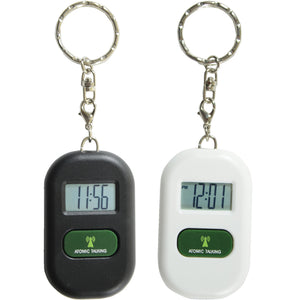 Atomic Keychain
This dual voiced (male or female) Atomic Talking Clock on a key ring has 5 alarms and can set the time via radio wave in the U.S.A. and the UK once one has set their proper time zone.

This talking clock Atomic Keychain clock arrives attached to a key chain and it has an additional thin 30" string lanyard for wearing around the neck if desired. This handy little clock can operate in either a male or female voice, it has 5 daily alarms that can be set as needed, and it can operate in 12 hour or 24 hour Military time.

This clock may arrive in sleep mode. To awaken this clock, press and hold oblong talking button on the front of the clock for up to five seconds. Once awakened, the time zone setting button is on the back of the clock. It is recessed and located to the upper right side of the round battery compartment door. Press and release that button with a pen or folded out paperclip until you hear your personal time zone.

Specifications:
The clock is 2 1/2" tall, 1 9/16" wide, and 3/8" thick.
The display window: is 7/8" wide and 7/16" tall.
The green color oblong talking button is 15/16" wide and 7/16" high.
Operates on a single CR2032 button cell battery which is already installed.