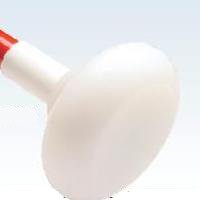 Cane Tip - Ambutech Jumbo Slip-On Roller
Ambutech Slip-On Jumbo Roller Tips have an oversized 2.5 inch solid disc that offers greater tactile sensitivity and visibility with longer life. Easily handles pavement cracks, cobble stones and many pedestrian obstacles. Made of heavy duty molded nylon. Easy to replace/change.

This cane tip is designed specifically for use with Ambutech folding canes. It has a wide, flattened sphere shape.