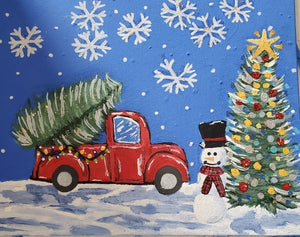 Winter Wonderland - Cyntia Spadafore
Inside: Sending you happiness and cheer this holiday season!
Back: Cleveland Sight Center is the only agency in Northeast Ohio offering comprehensive educational, rehabilitative, preventative and support services to people who are blind or who have limited vision. Since 1906, Cleveland Sight Center has provided clients the skills for independence, allowing them to realize their potential.
Proceeds from this card support programs and services for individuals of all ages who are blind or who have limited vision.
Cyntia Spadafore lives in Parma, Ohio near her son, her daughter-in-law and two granddaughters. "I am 67 years old and as my vision has declined, my granddaughters have become even more supportive of my artwork. I am far from an artist, but I love acrylic and watercolor painting, mixed media, scrapbooking, taking countless pictures on my phone daily and making wreaths for every season."
Cards measure 5" x 7".
10 cards with envelopes per order.