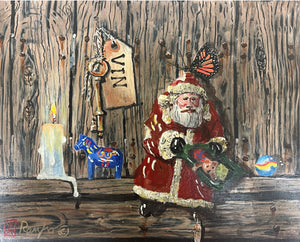 Holiday Shelf – James Neal Renfro
HOLIDAY SHELF – James Neal Renfro
ARTIST BIO (featured on back of card):  A native Californian and graduate of California State University with a degree in fine arts, Renfro has been teaching and creating art in Southwest Florida for more than 30 years. At SouthWestern State College he taught ceramics and sculpture and he also taught drawing and painting at the Naples Art Association.


Inside: Wishing you the happiest of holidays!
Back:  Artist Bio & "Cleveland Sight Center (CSC) is a nonprofit 501(c)(3) agency that consists of a team of professionals dedicated to providing services and support with a high level of compassion and expertise to people of all ages who have vision challenges. The team of optometrists, vision rehabilitation therapists, teachers, employment specialists and other staff work with individuals and their families to understand their unique vision-related challenges and provide solutions that empower them to reach their goals and live independently.
Proceeds from this card support programs and services for individuals of all ages who are blind or who have limited vision."

10 cards with envelopes per order.