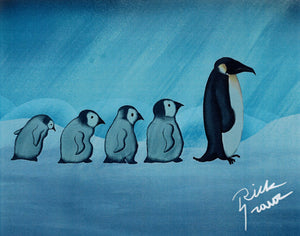 Penguin Family by Rick Fravor
PENGUIN FAMILY – Rick Fravor
ARTIST BIO (featured on back of card): When Rick was six years old it was discovered that he had a brain tumor that sat on his pituitary gland and stretched his optic nerve. This resulted in his sight impairment.

He has always loved to draw but never really did anything with it until high school when he attended a vocational school for computer-aided design. Since then he's earned his associate's degree in architecture and a bachelor's degree in digital art. He's continued to draw, paint and create works of art using acrylic paint, canvas, old windows and digital art.

Inside: Happiness and cheer to you and yours!
Back:  Artist Bio & "Cleveland Sight Center (CSC) is a nonprofit 501(c)(3) agency that consists of a team of professionals dedicated to providing services and support with a high level of compassion and expertise to people of all ages who have vision challenges. The team of optometrists, vision rehabilitation therapists, teachers, employment specialists and other staff work with individuals and their families to understand their unique vision-related challenges and provide solutions that empower them to reach their goals and live independently. Proceeds from this card support programs and services for individuals of all ages who are blind or who have limited vision."

10 cards with envelopes per order.